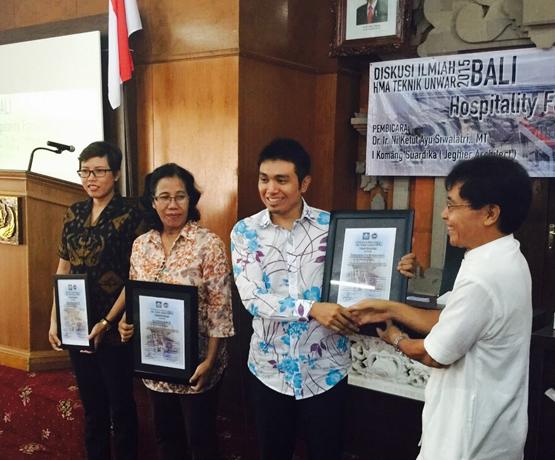 Keynote Speaker, Warmadewa University, Hospitality Design with Local Character
Keynote Speaker on Seminar for Architectural Program, WARMADEWA UNIVERSITY "Hospitality Facilities and Design with Local Character" with Dr. Ir. Ni Ketut Ayu Siwalatri, M.T., April 30th, 2015.
Architecture has different characters. It is nearly always a set assignment meant to achieve a specific goal and solve a particular task. Architecture is subject to functions, programs, financial frameworks, and regulatory restrictions – as well as other external requirements and expectations. But architecture is also part of our common cultural horizons. Good architecture may overcome restrictive external requirements and satisfy more interests than those which were initially sought. The design may serve additional purposes and be relevant in a wider than expected context. Even as a ruin.
As a part of keynote speaker at this Seminar , Hospitality design with local character, is envisioned to debate and reflect on how architectural character forms our culture, identity and awareness.
Architecture is not only rational and progressive, but also bears a cultural burden that helps shape its character. Architecture should not be reduced to urban scenography or historical testimony. It is a representation of civic pride, artistic ideas, political manifestos, and cultural narratives. Architecture is both the spirit of a place, the work of a professional artist, an exponent of local craft traditions, and a stimulation of senses. Architecture may become an identity of culture: it can be a brand, an architect, a place, a home, a neighborhood, or a city's identity.
Contemporary architecture is not united or dominated by a particular "-ism" as it was during the postwar period. The pluralism and individuality that currently characterizes the architectural field may be the result of how the burdens of architecture – those restrictions that are intuitively demanded – are interpreted and weighted in different ways at local, national, and global scales. These differences in the perception of the burden(s) of architecture shape contemporary discourse and affect the character of architecture today.
The sessions focused on following topics:
Architecture as a provider of identity
Architecture as a gesture of generosity
Architecture as a cultural trajectory
Architecture as a cinematic matrix
Architecture as an instrument of welfare
Architecture as monumentality
Architecture as sensation
Architecture as aspiration – the Future Architecture Platform